Mains Electric Traffic Lights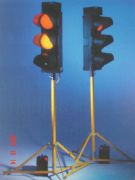 For fixed sites where mains power is available. Will provide the most cost-effective system for hires cable-linked Traffic Lights for hire. Long-term hires? Even greater savings! With over 21 years as traffic light hire specialists you couldn't be in better hands!

Key features include:
Safety (step-down Transformer included for site-safe 110v)
Reliability
Cost-effective
Full 24 hour call-out service for peace-of-mind and site safety.
Need traffic help? Call us today: