VMS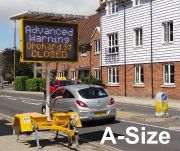 Available in two sizes, our Solar 5-Colour Mobile Variable Message Signs can easily show text, logos or graphics in Red, Green, Blue, Amber and White or a combination of all five!
Our colour A-size Solar VMS (VMSA) is ideal for hire at inner city and urban works. Featuring an Electro hydraulic lift for a user-friendly sign raising mechanism and adjustable support stands for easy placement and a secure footprint, the VMSA is a product small in footprint but not small in features.
The technology in the A-size matrix sign includes an autonomous solar charging system and a high bright, low power consumption LED display. Programming on all our VMS is childsplay and is easily carried out via a windows-based web browser (by Sun Traffic OR you the client).
The Colour Mobile VMSA can be used independently as a VMS or in conjunction with the Radar to display a message, a message and the motorists speed, speed only and/or a too high and too fast message.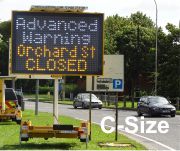 Perfect for road-works information, school zones, road safety campaigns and anywhere that speed enforcement is required.The VMSA is versatile, easy to setup and operate and is reliable under all conditions.
Our colour C-size Solar VMS matrix sign is designed for high-speed roads, trunk roads, motorways or simply to add BIG emphasis to your messages. Featuring all of the design and efficiency features of our smaller one. Both are solar powered and both will operate in hours of darkness at all times of the year in all light conditions.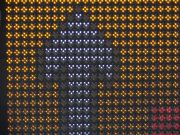 A single plug and play controller, houses the signs unsurpassed technology, with a range of features and functions not available in any other variable message sign.

All LED modules are interchangeable quickly and easily. Programming is easily undertaken via a windows-based web browser (by Sun Traffic OR you as the client). The C Size variable message sign is available to hire on high-speed roads, but can be used on events & lower speed roads if BIG impact messages are required.

Need traffic help? Call us today: